The Objective of the Association
As the technology distribution industry has evolved from a linear to a nonlinear marketplace, partnerships and collaborations amongst industry torchbearers have become more imperative than ever. Successful manufacturers, distributors, and resellers have been forming and re-forming teams and partnerships in response to market trends. TDAI's objective is to build a transparent and organized Distribution Channel in India.
The TDAI members represent major portion of the nationwide distribution revenues and hence enable the organization to spearhead growth-led initiatives and address industry issues in the country and globally. We intend to provide unparalleled trends, information and insights about the distribution sector through our access to the industry's most powerful and comprehensive sales-out database available from hitherto developed markets (U.S and Europe). One of our motives is to increase visibility amongst influential investors and financial analysts covering technology distribution.
TDAI Focus
TDAI will provide the platform to enable interaction with various Dealer Associations on common issues faced by the distribution eco-system and also provide all industry stake holders common ground for deliberating on regulatory issues that impact them, with a view to take those up with relevant authorities for resolution. It will act as a platform through which they could contribute inputs and information that would help shape the industry and will enable high-level engagement on industry issues with the CEO's of today's leading technology distributors.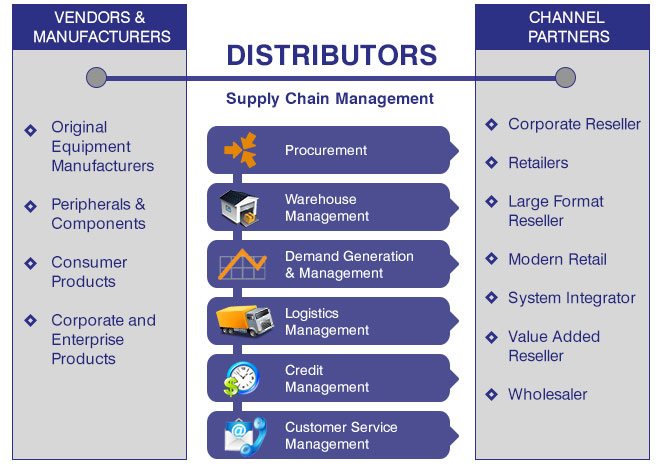 Technology Distribution Association of India – Overview
The Technology Distribution Association of India (TDAI) is the industry association representing India's leading technology distributors. TDAI, a first of its kind non-profit organization in Asia Pacific & India, was established in January 2013 and is managed by the members. The members of TDAI are responsible for generating crores of technology business revenue in annual worldwide sales of IT products, services & solutions through dynamic business channels.
TDAI members are active participants in the new global economy and are admired for their innovative business practices, social initiatives and thrust on emerging opportunities. The members of TDAI are bound together to stimulate the health of the entire distribution industry. Our aim is to comprehensively address industry wide issues and opportunities and strengthen the association of our members and the IT vendors. In addition, the TDAI enables vital industry insight for financial analysts and media looking for a definitive view of actual tech trends and the central role of IT distributors. Our executive-level conferences, services and research partnerships make the TDAI your one-stop resource for distribution data, maintaining a strategic and healthy channel from Manufacturer to End User as well as supporting the development and expansion of the industry.